Mandore Project's collaborations under community development
Mandore Project has a long history in supporting local community projects.

We regularly attract international volunteers to support a range of activities. Volunteers join us either as an individual or within a group.

Volunteers work on grass roots projects which naturally involve daily exposure to Indian customs and traditions, this is a great way to learn about Indian culture first hand through direct involvements and the fact you are coming to offer assistance ensures you will be warmly welcomed into the local community.
Our main area of activity is working with schools in rural locations. Working at Rural schools volunteers attend school for Half-day to develop the pupils English language and conversational skills. Working with 8-14 year olds you will encourage development through a range of formal and informal activities. Engaging with you will enable them to experience different pronunciation and language use. Your presence will be a strong motivation for them to want to learn more and an ooportunity to practice their speaking and listening skills.

Children in government schools do not have the same opportunities of privately educated children to develop their English language skills. We offer a range of activities to support their development and compliment school provision. Offered in less formal settings activities may also include art, drama, sports and computer skills. International volunteers support the local volunteers by sharing knowledge and good practice and by running sessions. The children love spending time with international volunteers who can teach them about the outside world; they will be full of questions and will love to hear stories and facts about your home country.
Supporting learning through play with pre-school children

The love, care and attention received during the formative early years of a child's life is directly linked to the health and happiness of that child as she grows. Assist in the care of children and encourage brighter smiles and brighter futures. Make learning exciting from a young age and build inquisitive minds and a thirst for knowledge that will last a lifetime.

Make each day fun and whether you are teaching ABCs, nursery rhymes or numbers create a colourful and positive learning environment. Just as energies are running low from a morning of play assist staff in serving a nutritious meal to refuel the children and then let the fun recommence!


Women's Empowerment

Rural women in India/Rajasthan are among the most disadvantaged people in the world in the terms of decision making power and access to development opportunities. Education is the most influential tool to raise the status of women in developing countries.

We promote educational and training activities for women and adolescent girls in the villages of Jodhpur. Whether you are teaching English language, email writing or interview skills your time spent with the women will be some of your most enjoyable moments in India. Classes are thoroughly enjoyed and not only do the women learn from volunteers but volunteers learn so much about their daily lives and Indian culture, forming mutual understandings, friendships and fond memories.

Computer skills

Teach computer skills to students from primary age to adult learners. Work with students who have little or no knowledge of computers – teaching things such as switching on the computer, using the mouse, managing different windows or word processing skills. For those students who already have some knowledge of computers – compliment their studies and teach intermediate skills such as internet, email, spread sheets, presentations, printing documents and how to connect with computer devices.

Learning computers is exciting and sometimes challenging for those who have little experience or opportunity to use them. Show students that with regular use, computers are easy and fun and not only used for work purposes but for recreation and as a self-learning tool too.
Your Role: As an individual volunteer you would assist in teaching the children from surrounding villages with the help of the teachers and language supporting staff. The priority is to teach basic and conversational English however you are also welcome to use your imagination and personal interests to inspire the children by teaching various subjects and extra-curricular activities. This could mean you train a group in athletics, teach arts and crafts, organise and introduce new games and sports from your own countries schools. Other examples include playing music, teaching mathematics, world affairs, hygiene, nutrition and developing awareness against burning issues like Drug-Abuse, HIV/AIDs and other preventive education.
Explore Individual Projects
Niels and Annika
Volunteered With Mandore Project,2nd Week January,2018,Jodhpur
Short summary about volunteering experience in rural school with Mandore Project
Our stay at the Mandore Guesthouse and volunteering with the Mandore project was a fantastic way to combine service and travel, and it more than met our expectations! We taught English to 4th and 5th graders, for about 2.5-3 hours every morning at a rural primary school. Overall, we thoroughly enjoyed this experience and learned many things from the children, their teachers, the other members of the community, and our project manager, Sanjay.

We were a bit unprepared for the initial experience as we weren't given an itinerary or lessons to teach. It would have been helpful to get a sense of where the students' reading/speaking level was at beforehand to avoid redundancy and maximize our learning together. Additionally, it would be nice to have a more structured outline for what we should specifically teach and how to do it. One way to address this would be to speak with teachers or other project workers beforehand as an introduction to the volunteer program. All that being said, our time with the students was wonderful and everything went smoothly. As aspiring health professionals, we especially appreciated and enjoyed our time working to develop health cards for the students. It was a great way to combine our interests with the needs of the students. Overall, we are grateful and honored to have had the opportunity to participate in the mandore project and to connect with the local community. The schools the Mandore Project helps are lucky to have such dedicated and inspiring people creating lasting change. We wish we could have stayed longer... We'll just have to come back again in the future!

Our stay at the Mandore Guesthouse itself went far beyond our expectations. It is a beautiful green haven away from the busy city with the most accommodating staff we have encountered in India. The food at the restaurant is delicious and was included in the reasonable volunteer costs. The staff looked out for us like friends or family, making sure every need was met, sometimes even before we knew we needed it. All in all, our time with Mandore Guesthouse/Project was a highlight of our time in India and we would recommend it to anyone wanting to volunteer or simply stay in Jodhpur.
All the best,
Niels and Annika
Silke Lohmar
Volunteered at Jajiwal School,Jodhpur
Short summary about first week of volunteering work in Jajival rural school
Name: Silke Lohmar (slohmar_2000@yahoo.com)

I came to India at the end of September, with the aim of doing volunteering work and to visit this amazing country (which is very far from my world). It was a long journey, but travelling for three days (including lost connection flight) was worth the effort and I am very happy to be here. The reception at the Guesthouse was very cordial and I felt at home after a few days (I have to say that I knew this would happen since the photos of the garden which I saw on the webpage reminds me the guesthouse my parents ran in Southern Chile during more than 15 years).

The first day at Jajival school was very special: The chief of the village came to welcome me, the third eye was drawn on my face and a necklace made of flowers was put around my neck. That was very significant for me.

The teachers (Neelam and Saroj) are very friendly.

My background is not in teaching (I am a geologist and had never taught children), so it has been a challenging experience for me. After being a little nervous at the beginning, I try to make the teaching entertaining for the children (it is easy to notice when they get bored or are not interested). Contents of this first week of teaching have been: ABC, colors, numbers, animals, How are you? What's your name?, How old are you?, How is the weather? I think the children are enjoying the class. Some of them understand easily, others need a little longer (which is normal), some suffer a little bit (I can tell from their faces and I try to make them laugh), but all are always very motivated, friendly and try to do their best, so I feel very grateful.

Support from Sanjay was crucial to communicate with the children at the beginning (I do not speak Hindi) and is still very important in difficult situations (when we do not understand each other), so a big thank you for them too! My next goal is to improve teaching through playing little games.

All the best,Silke
Jessica Amsellem
Volunteered Under Mandore Project,Jodhpur
Mandore Project - My Experience, Jessica Amsellem
The two week volunteer program that I participated in was an amazing experience, both as a volunteer and as a teacher. I found teaching English in the village school to be very challenging, mainly because of the language barrier but also due to resources at the school being limited. It was essential to be creative, lively and dynamic within the classroom in order to achieve maximum results. By the end of the two weeks, the progress of the children was visible both academically and in terms of self confidence. Even though I came to teach I feel that I actually learnt so much more from the children, the children's motivation, participation, and immense show of affection that I received just filled me up with such self satisfaction every day. In a way it left me feeling that the whole experience was slightly unfair, because I came here to give but no matter how much I gave I always felt that I was receiving so much more. Apart from teaching at the school, my time at Mandore Guest House was like finding a new home and family. Everyone who works there makes you feel like you are part of the family, whether you come for two nights or two weeks. I have the warmest memories of the beautiful place and the people, both of which I hope to see again.

Thanks
Jessica Amsellem
Dale Sniegowski
Volunteered With Us Under Mandore Project,Jodhpur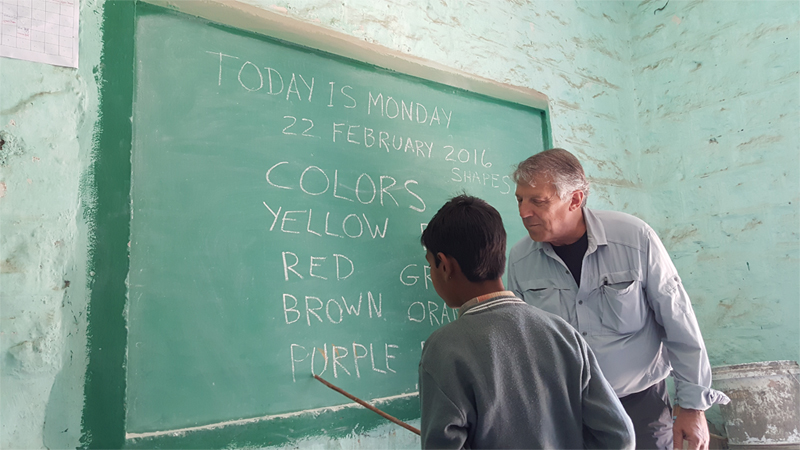 The opportunity to teach English at the school. It was a very uplifting experience. And, as I told you when I was in Mandore, don't be surprised when I write to ask to come back for another opportunity to volunteer. It would be a pleasure to help your NGO again. With Best Regards from your friend and fellow caring human,
Mandore Project - My Experience, Jessica Amsellem
I would like to tell you that the three weeks that I had as a volunteer with your NGO, teaching English in the local school in Mandore, was an extremely significant experience in my life. Teaching English to the children was not only a benefit to them but, I believe, was good for all of humanity. We, as members of this human race, gain so much when we just care and share with one another. These types of sharing bypass the political rhetoric and posturing that we are so bombarded with, by the world's governments, on a daily basis. As you and I talked about, one on one, all of us deserve peace, love and happiness. Your efforts most certainly foster the most positive ways to do this.

Since I have returned, so often, visions of being in the classroom, with the children, appear in my mind. I can only smile when I "see" the faces of those children, in that classroom. They certainly did learn to read, write and speak some English, but, I believe that they also learned that people can care for one another, and want to share. Oh, how I wish that I could have stayed a bit longer. Those children showed so much potential, and I was very pleased with how much progress that they made, in a short time. I hope that the work that we did was the foundation for them to grow and progress, in so many ways. It certainly would be very interesting to return, after some time, to see how well that the children progress from the "seeds that I planted" with them. Maybe I can make that a future reality.
Veronica and Rodrigo
Volunteered Under Mandore Project,Jodhpur
Mandore Project - Veronica and Rodrigo

This three weeks we spent together were really special. To work with the village kids was such a different, and great, experience for us.

We don't have words to describe how amazing the kids are, so eager to learn, smart, alive, curious and at the same time so lovely. It was really hard saying goodbye, but very reconforting to see that in just 3 weeks they learnt so fast and we could perceive a difference.

The guest house is beautiful, and the garden so peaceful and inviting that was a daily inspiration to prepare the classes. We really felt like home! The restaurant food was fresh and delicious.We would like to thank each and every one of your family and the people that work over the guest house for such great warmth we received and the way we were treated.

We really enjoyed!Keep on with it! It's a beautiful project! Best,
Chloé and Lilou
Volunteered Under Mandore Project,Jodhpur, January 1st week,2018
Mandore Project - Chloé and Lilou